In Memory
Kathy Gardner (Armand)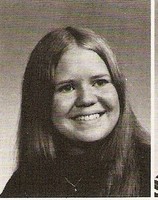 Donnie Sensback informed details of deceased classmate: Kathy Gardner Armand.
DOB: 5/17/1954
DOD: 8/13/1993
Age at death: 39
Cause of death: Cancer
Resided: Indianapolis, IN USA
Kathy was a wonderful friend from high school. She was a member of our bowling team at Hindel Lanes. Our team was comprised of Kathy, Joyce DeBaun & junior, Karen Crum. We had a good handicapp and often won, handily, regardless of if we were all in attendance! I recall Kathy's enthusiasm and team spirit. Her smile and laughter can still be imagined today. Most of all, her friendship was precious and nothing could feel better than knowing she was out there living life to the fullest. Her death is a difficult one to accept, especially for the circumstances of cancer! God bless and forever keep you, Kathy.