In Memory
Bill Robison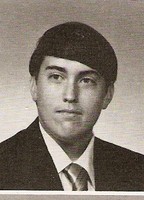 Bill was born in Lafayette, IN. He earned a BS degree in mechanical engineering. He worked for Magnetic Instrumentation, Inc at 8431 Castlewood Drive for 30 years. His memorial service was held at Bethel United Methodist Church in Indianapolis. He died at age 55. He is survived by his lovely wife, Kimberlie Ballard Robison. Contribution were to be made to The American Cancer Society.
Life is precious. Seize the living years with reckless abandon. Shower the people you love with love. Unsaid praises are never heard. God bless and keep you, Bill.
If anyone knew Bill well, it would be appreciated if a few words were expressed.