In Memory
John Foltz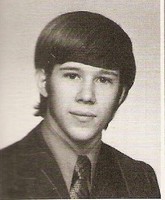 Deceased Classmate: Jon Foltz
Date Of Birth: September 29, 1954
Date Deceased: 2007
Age at Death: 53
Cause of Death:
Classmate City: Indianapolis
Classmate State: IN
Classmate Country: USA
Was a Veteran: No
Survived By:
Flanner & Buchanan Services in Indianapolis. Buried at Oaklawn Memorial Gardens (Center)
Deceased noticed supplied by Greg Case 8/17/12 and Kevin Haase 8/20/12. John appears such a baby face in his senior picture. "Dust in the wind. I closed my eyes, only for a moment, then the moments gone."
If anyone knows more about John Foltz, please let us know.